Why is Social Media Strategy Important?
Building an audience on social media isn't just about distributing content. Flooding your channels with content might earn some attention, but you'll need to find a way to convert that attention into leads or sales.
Planning your content can help you find your audience and eventually convert them into buyers. Your social media strategy helps you better distribute and track your content so you'll know if you're meeting your marketing goals.
How To Create A Social Media Strategy
The key to a successful social media strategy is aligning every post with your brand goals and audience needs. You can start building your own strategy by working with these 5 common questions:
Small Business Social Media Strategy
For small businesses, social media can be a low-cost way to connect with customers and potential leads. To grow your account, you'll benefit from using a comprehensive social media strategy.


1. Decide Who
The first step for managing a social strategy for a small business is determining who your customers are. The more you know about your audience, the easier it will become to find and engage with them.
Your audience's demographics can give you a good idea of how they use social media and what type of content they enjoy consuming. For example, teenagers and young adults are more likely to use platforms like TikTok and Snapchat, whereas middle-aged customers are more likely to use Facebook.
Similarly, professionals usually have a LinkedIn presence but not all industries will have a use for Twitter.
2. Decide Where
Based on your decisions and research in step 1, you'll need to decide what social media channels to create a profile for.
Avoid stretching yourself too thinly. Make sure you choose the channels that are most relevant to your brand. For example, if you are a business that offers a service, you might consider positing tutorials or interviews on YouTube.
Try to maintain a presence on at least one of the common social channels:
Facebook
Twitter
LinkedIn
Instagram
YouTube
TikTok
Snapchat


3. Work Out Why
Ask yourself what goals you hope to meet with your social media strategy. Keep in mind that each social media platform is used differently, so you need to define a goal for each of your social media channels.
For example, if you are a B2B business, you might want to engage your industry by creating thought-leadership pieces on LinkedIn. You probably wouldn't contact your customers directly on Instagram, but you might want to be present there to advertise to potential customers.
Setting a goal for each of your social channels will inform your content creation and help you track your performance against KPIs.


4. Choose How
Decide how often to publish content on your channels and how much time you'll need to develop your content. You decide which is suitable for you and your business, but try to be as realistic as possible when budgeting for time or resources.
You can use a scheduling tool like Social Media Poster to schedule your posts in advance. To respond to comments and messages, you will need to set aside a little bit of time each day to monitor your accounts.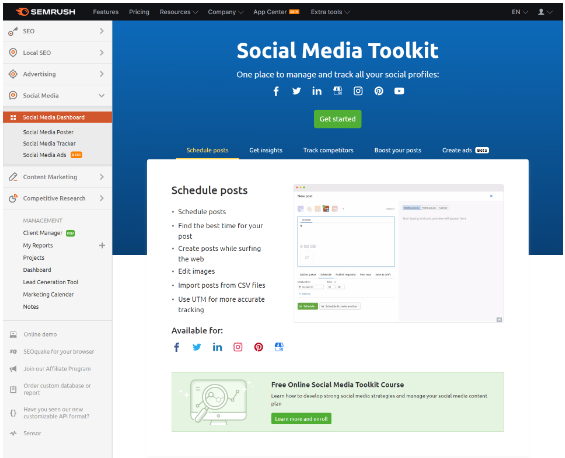 5. Decide What
Finally, you need to get creative and decide what content to post. Your content should be relevant to your audience (who), suitable for your channel (where), and contributing to your marketing or business goal (why.)
Social Media Strategy Template For Small Businesses
As a small business, try to post at least 3 times a week on each of your channels. (Remember: quality over quantity.) Use 1-2 hashtags on each post that are relevant to the platform you are posting on.
You can use our small business social media template to keep track of your schedule.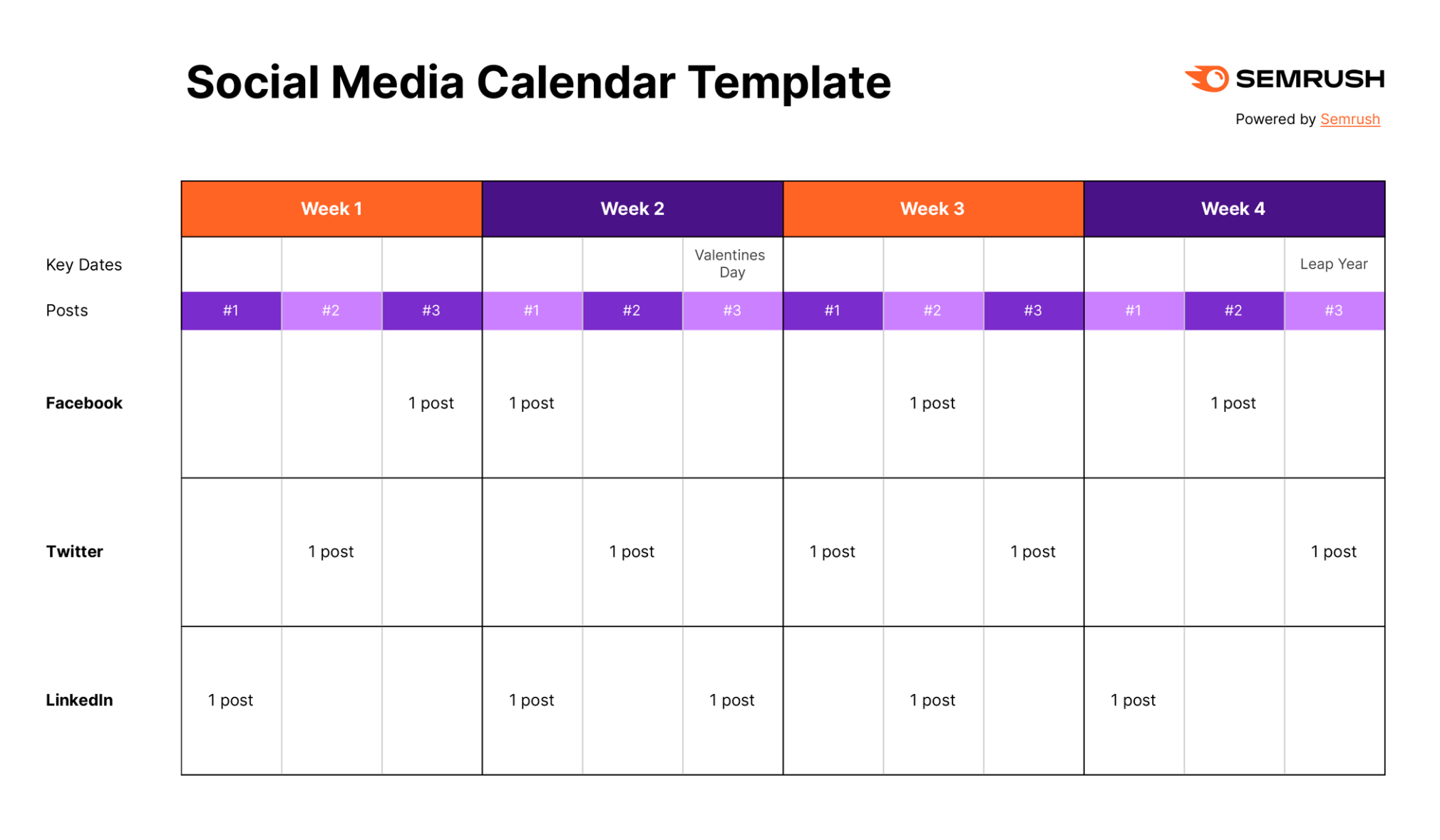 Medium Business Social Media Template
For medium businesses, social media is still a great way to earn more traffic and brand awareness. With your growing audience, you might see it fit to begin experimenting with the content and frequency of your posts.


1. Decide Who
Start by determining who your competitors are on each platform. This will include competitors in and outside of your industry.
Usually, your industry competitors will have a presence on the same platforms as you. You can also identify other brands that your customers follow on social media to get inspiration on content types.
Identifying your competitors will give you a good insight into the type of content your audience responds to.


2. Follow Where
Identify what social platforms your competitors use. You'll need to understand if there are any gaps you'll need to fill by creating an account.
Are there any platforms your customers are using to engage with other brands that they follow? Try to stay on top of new platforms as soon as they start to trend. You won't always need to create a presence there, but it is important to know where your communities are.


3. Discover What
Now that you know who your competitors are and where they are present, you can track their engagement.
Use tools that track and analyze your competitor's activity for you like the Social Media Tracker tool.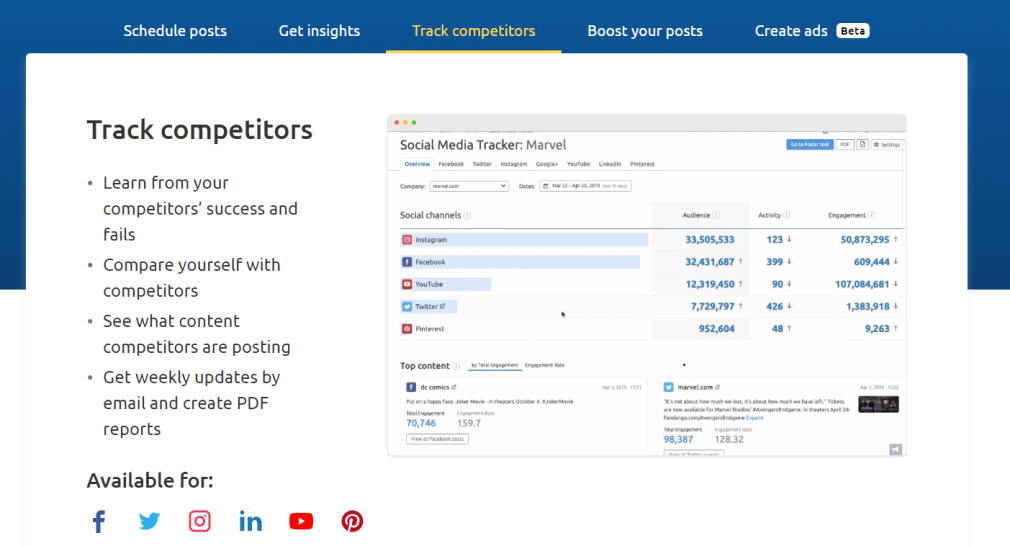 Track Your Social Profiles
with the Social Media Toolkit


4. Work Out Why
Now you'll need to understand where you and your competitors' engagement differs. Stick with posts with the best engagement. Are there any commonalities?
What time during the day do your competitors post? Are common hashtags being used? What type of content do they post often? Do they use a call to action?
Knowing what works and what doesn't for your competitors can help you build out your own content.


5. Choose How
Finally, you need to determine how to use the data you've gathered into your own content strategy. Start adopting their strengths and use their content as inspiration.
Emphasize the value you offer to your customers and consider using content types your competitors don't use often.


Social Media Strategy Template For Medium Businesses
Use our medium business social media template to keep track of your post.

Enterprise Template
As an enterprise business, you might already have brand awareness and recognition. Your social media strategy will look significantly different since you won't have to focus on building a name brand or competing with others. It's all about standing out.
You should already have a clear idea of what days, times, and content types work best for your audience. To really drive your social strategy as enterprise business, you need to be ready to adapt and engage with world trends as and when they happen.


What's Happening
You'll need to stay on top of what is going on in your industry and communities in order to stay current and engage with online trends and world news.
To monitor trending news and discussions, keep an eye on the Twitter trending report as it will dynamically update with what is most talked about in your location.


Who's Posting
The activity of others, even if they are direct competitors, can be an opportunity for you to create your own content or trend.
A perfect example of a brand creating a trend from another brand's post is the Weetabix and Heinz Twitter thread in 2021. Weetabix posted a picture of Heinz baked beans on Weetabix; other brands, from KFC to RNLI, used the opportunity to create their own content. Specsavers most notably recreated Weetabix's photo by putting beans on top of glasses.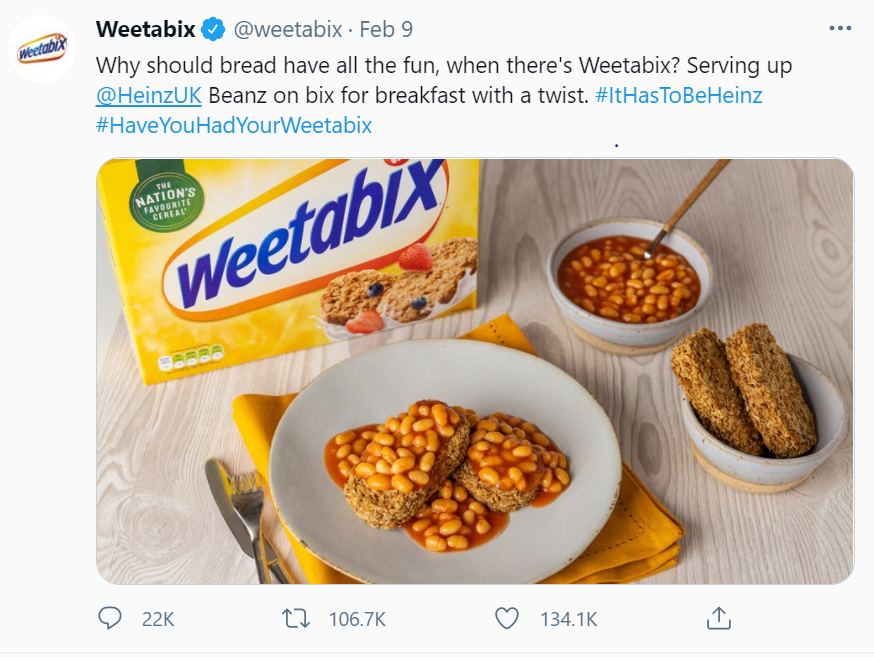 How to Make It Work
As you monitor current affairs and social trends, assessing if and how you can make the trend work for you. For example, depending on your brand and business, you might want to completely avoid any political affairs.
Generally, you need to assess whether a trend is something that aligns with your brand values or you can make it work to be relevant to your brand. However, it's just as important to be quick when creating and posting your content. Trends quickly come and go.


Discover Where
If you identify a trend, you'll need to be mindful of where it is trending. Sometimes a trend started on one platform won't trend on any other platform; other times it will trend across all social media platforms.
If you want to participate in a trend, start by discovering all of the platforms it's trending on. Even if you aren't the first brand to jump on the trend, you may be the first on a particular platform.
Why
Before the final decision, consider why you are posting your content. Being adaptive and jumping on trends is only beneficial when it aligns with your overall social media goal and brand values.


Social Media Strategy Template For Enterprise
Your plan should allow you to:
Post more regularly, including multiple times a day.
Post on more channels (but use different content for each one)
Take advantage of trends where present and when relevant
Use the enterprise social media strategy template to get started with creating your own strategy.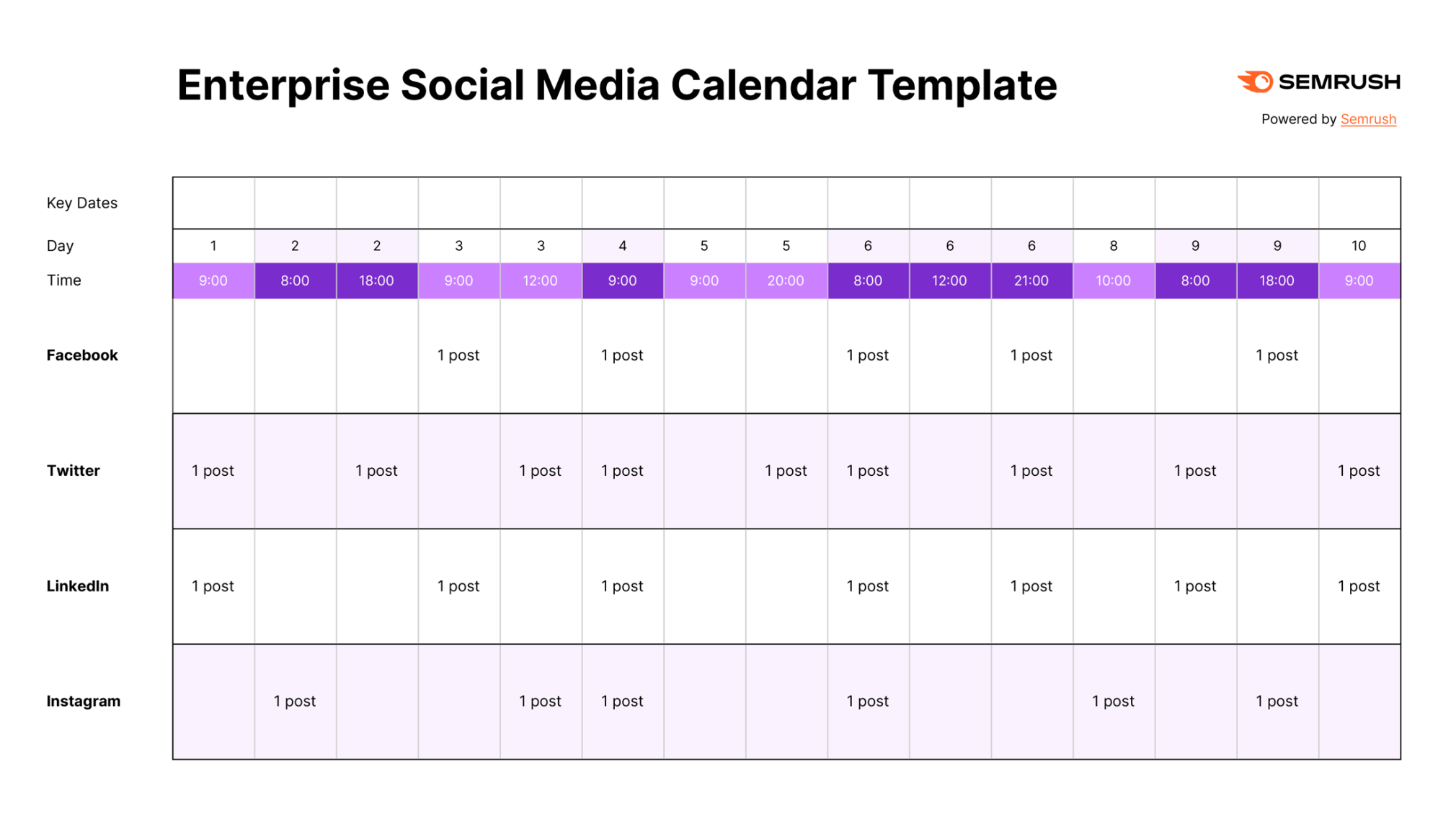 What Is A Successful Social Media Strategy
No matter what strategy or business you have, you should always be monitoring and analyzing your social media performance. You can use your social media tools to gather data at the account level to continue learning what works and what doesn't for your brand.
source - https://www.semrush.com/blog/social-media-strategy-template/